G-Technology 1 TB G-RAID mini, USB 3.0
On Clearance!
Part Number: 0G02608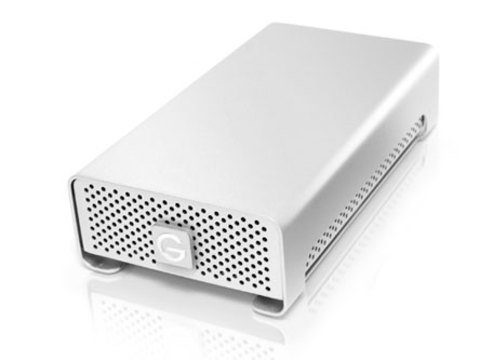 Specifications
| | |
| --- | --- |
| Capacity | 1 TB |
| RAID Compatibility | RAID 0, 1 |
| Interface | USB 3.0 / FireWire 800 |
| Spindle Speed | 7200RPM |
| Warranty | 3 Years |
| Power | External Power Supply |
---
G-Technology 1TB G-RAID mini, USB 3.0 - 0G02608
Item has been discontinued by the manufacturer, and limited quantities remain. Please call 877-893-8273 when ordering to check availability.
G-RAID mini from G-Technology offers an ultra-portable RAID device that is both light-weight and fast, making this external hard drive ideal for video editing in a mobile environment.
Capable of both RAID 1 and RAID 0, you can configure your G-RAID mini for raw speed or data redundancy.
1TB of storage space creates plenty of room for important files and documents as well as a spacious backup environment. G-RAID Mini utilizes the two included 7200rpm drives for ultimate performance.
G-RAID mini external RAID hard drive features a USB 3.0 port for ultra fast data transfer rates when used in RAID 0 mode. G-RAID mini also comes with two FireWire 800 ports and one USB 3.0 port. The FireWire ports are bus powered eliminating the need for an external AC adapter.
Formatted with HFS+ out of the box, G-RAID mini is OS X compatible. A quick reformat will make G-RAID mini ready for Windows use. (Instructions for reformatting are located on the "Downloads" tab for this product.)
G-RAID mini comes with a 3 year warranty.
---
TOL Part #: 0G02608
Manufacturer's Part #: 0G02608
Model: 1 TB G-RAID mini, USB 3.0
Product ID: 3961