Microboards 4x BD-R White Inkjet Hub Printable - 50 Discs
Part Number: MEDB-10001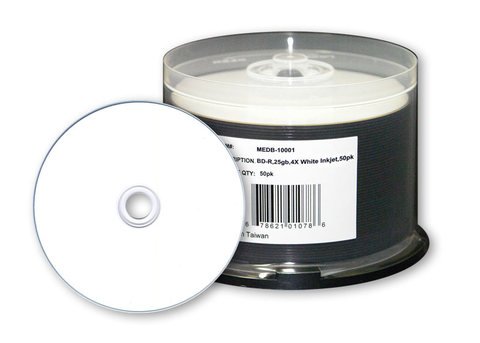 Specifications
| | |
| --- | --- |
| Capacity | 25 GB |
| Write Speed | 4x |
| Case Type | Spindle |
| Print Technology | Inkjet |
| Count | 50 Discs |
| Surface | White Inkjet Hub Printable |
| Hub | Hub Printable |
| Disc Type | Blu-ray |
| Surface | White Inkjet Printable |
| Hub | Hub Printable |
| Print Technology | Inkjet |
| Count | 50 Discs |
| Case Type | Spindle |
---
Microboards BD-R 4X White Inkjet Hub Printable Blu-ray 50px Spindle
Microboards printable 4x Blu-ray discs are now available at TapeOnline. This spindle of 50 BD-R discs features a white inkjet printable surface for use with your inkjet disc printers!
Features
Recordable format for HDTV recording and data storage
Blue-violet laser to read and write data
Superior compatibility
Full-color, high resolution, photo-quality printing
White Inkjet Hub Printable Surface - 4x write speed
BD-R recording hardware is required for use
Spindle of 50 BD-R discs
Formerly Microboards part number 15411.
---
TOL Part #: 15411
Manufacturer's Part #: MEDB-10001
Model: 25G BD-R 4X White Inkjet Hub Printable
Product ID: 3193
Blu-Ray
bryce - 12/29/13
PROS: Well priced Dependable USAGE: data backup
Rock Solid!
hoovdaddy - 11/13/13
PROS: not one failed disc in 150 discs burned so far (data back up). THOUGHTS: These discs are rock solid. I have never had a disc fail verification. I've burned over 150 discs over the last 4 years. I'm using Toast 10 Titanium on Mac running Snow Leopard. USAGE: Data back up of video files, audio files, graphics